hello can i get extension plz?
Good morning, Ahmed

It may be possible for you to get a deadline extension. But you need to specify for which task you need this extension.
Whenever you need a deadline extension, you should always use the thread associated to your project to request for a deadline extension. That way, it will be easier for the Project Officer responsible for your project to find your request, and you will get a reply sooner.
In case this thread is not available, you should create a new thread specifying the name of your project, because this will help staff members to get you in touch with your Project Officer.
I hope this helps.

Have a great day, Ahmed!

All the best,
Andreia
Hi @Ahmed5 and @andfraz, thank you for your messages! The information @andfraz provided is correct

if you need further help here is a video tutorial showing you how to find the correct discussion thread for a project you are working on.

Hello! I was wondering in which timezone the deadline timing is written? Is it in my local timezone?
Hi @reem.hazim02


Deadlines are displayed in your local timezone.
Hello! If my task is due at 11:00:00, is this 11am or 11pm?
Hello @beamcp


11:00:00 is 11am

I claimed a task and can't meet the deadline.it is already came. Can I ask for extension?
Hi @Sara15 thanks for reaching out!


Please post a message in the relevant discussion thread for the project to ask the project manager for a deadline extension, and let them know when you think you will be able to complete the task. Here is a video tutorial showing you how.
i claimed a task thinking the deadline was the 11th but it was the 9th! my bad. i got an email notification reminding me that the deadline has passed and i managed to finish the task and submit it. but 2 days late… i am really sorry for that and hoping it did not inconvenience anyone. will that affect me being able to claim tasks in the future? this is the first time this mixup happens.
Thanks for letting us know! Don't worry, this won't affect your access to tasks in the future

We strongly encourage translators to stick to deadlines. But, if you think you're not going to be able to make a deadline, you can let the project manager know by posting on the relevant project thread (this link can be found on the project task page).
This way, we keep the project managers and other translators working on the project in the loop

Thanks for your support on the project, Najah! Have a lovely day

Hi everyone,
I don't know if this is the right place to ask! But I want to ask about the difference between task deadline and project deadline as shown in these screenshots?
Thanks in advance
Screenshot 2021-05-11 201228|690x287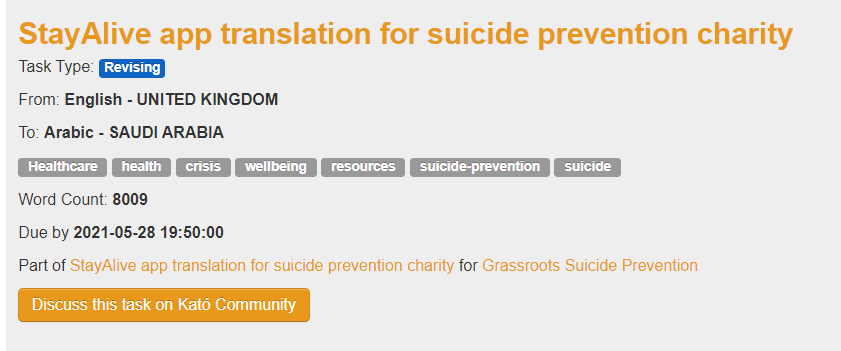 That's interesting
They are actually different
Of all the tasks I've claimed I remember both stating the same date


Hi @noureid36
The task deadline refers to the translation or revising task (it depends on which one the translator has claimed). The project deadline refers to the whole project translation+revision.
Have a nice day/evening

Yes! It's weird. I was confused

Thank you for replying!
It's just not right to have the deadline for whole project before the little task

Hi @noureid36,
sometimes projects can be opened again after a while, but the project deadline is not updated accordingly. I don't think you need to get worried.
Have a lovely day!


Hi @noureid36 @soke35 @Alex9 @faretto5

Thanks for your question, Nourhan

that's very interesting to see and I'm not sure why the project deadline is before the task deadline.
However, I'm sure it's just an error and I wouldn't worry too much about it!
I would recommend that you take the task deadline as the correct one because it's most likely to be up to date

Thanks everyone for your thoughts on this