If tanyone know how to login memosource application please guide me
Hi, @True.ankur84!
You don't need to have an account in Memsource. TWB will provide one for you. You can learn more on here.
You just need to be logged into your TWB platform account.
If you claimed a task, TWB will send you a email. There would be a sentence like this:
"You claimed a Translation task for "[name of project]" from [source language] into [target language] with Translators without Borders.
Please translate this task in Memsource, our CAT tool:
[link]"
But you can also go to Claimed Tasks on TWB Kató Platform and click to translate your task.
Happy translating!

Hello @True.ankur84
Thanks for reaching out!

As @PauloRibeiro Kindly mentioned, Memsource is automatically connected to your TWB profile, so when you claim a task, you simply click on the URL you receive by email to start working on the task.
Also, you can click on the "translate/revise using Memsource" button included in the task description. Kindly see the example below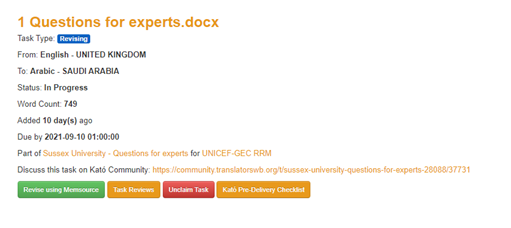 To know more about Memsource, you can take a look at this thread
Please let us know if you have any questions!