Happy International Arabic Language Day! We are grateful to have so many Arabic speakers in our community, and we couldn't do the work that we do without you!
Thank you to the many people who participated in the Arabic translation contest!
We received over 300 submissions and many good entries. We were glad to see some familiar names, as well as translators who have just started their TWB experience. There were many submissions that received high scores and deserved to win.

Well done, everyone!
We are now ready and excited to announce the winners and honorable mentions, based on the reviews of our community members and our TWB Arabic specialists @Muhannad, @Aya.Alrifai, and @Thalia. The two winners have been contacted by email to claim their prize


1st place: @Kholood Mshawih got the highest score: 22.75 out of 25!

This is what our specialists said:
The translator took their time adding diacritics to almost every letter. This really showed that they are taking the contest very seriously. The translation was very accurate, yet it didn't feel like it was a translation, and they followed our style guide.
The only problem with this translation is that they translated "chatbot" as "chat", which could have been done better.
And this is Kholood's translation: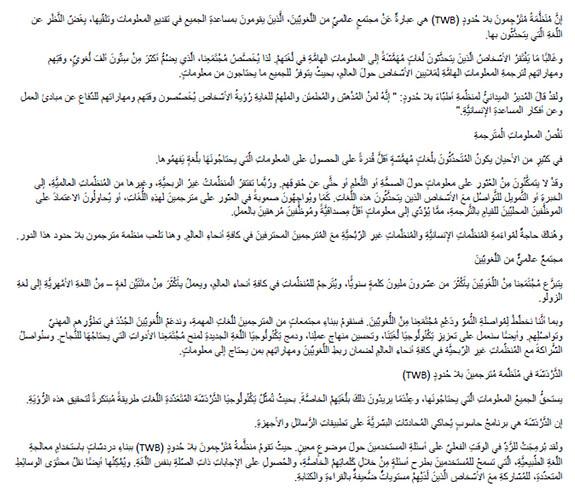 2nd place: @Manal_Khaled got the second-highest score: 22.25 out of 25!

They have a nice and unique style that is a breath of fresh air. What this submission could have done better is to avoid making "chatbots" just a transliteration in the subheading, which sounds off compared to the rest of the translation.
And this is Manal's translation: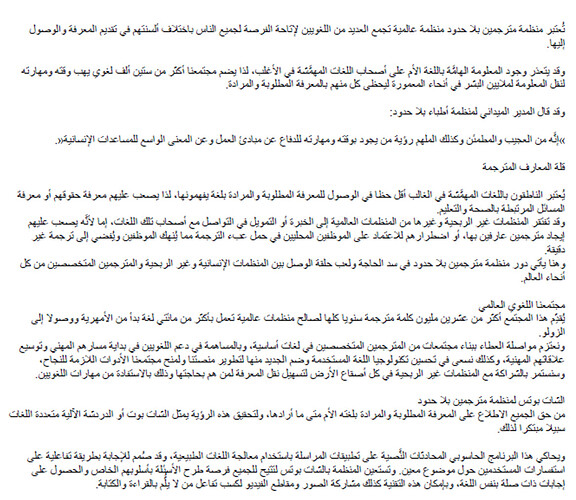 Congratulations also to:


Israa Abdelfatah @israaabdelfatah588


Zeinab Ribai


Lama Bou Rached @Lama.Bourached


Aliaa Nada @Aliaa1


Angie Halloum @Angie1


Nader Badran


Yosra Gharbi @Yosra_Gharbi