This is where you can ask questions about the TWB Community forum and how to use it
Hi there, I'm new to the Kato community and would like to know how and I can find tasks for my language (Somali) if it is available.
Thanks
Because the global challenges About Covid 19 work
Hi @shamhusen20 welcome to TWB! Can we help you with anything?
Hi!! I'm new here and I like to know everything about how to use the platfrom and get task availables. thaks you
Hi @Fernanda1 thanks for reaching out!

I invite you to take a look at our Translator's Toolkit; there, you'll find all the information you need to get started with us, including how to claim and submit tasks

Also, taking our Introduction to Humanitarian Translation Course is a great way to start with us and learn more about TWB! It's a self-paced course and you'll receive a certificate once completed

Thanks for your support, Fernanda! Do let us know if you have any questions

(As at the moment I've not yet been granted the ability to create new threads, I hope leaving a message here is fine)
I was reading through the forum and in the badges section I've read there are a 'new user tutorial' and an 'advanced user tutorial', but I haven't been able to find them. Could someone kindly send me a link?
Thank you!
Hi @marcellaviale, thanks for your message and sorry for the late reply!

You can find all the information you need to get started with us in our Translator's Toolkit

There, you'll find many video tutorial about how to use our translation platforms, find and claim tasks, and much more

I hope this helps, but let us know if there is anything else we can help you with
Don't worry and thank you for your reply, @Silvia_Mauri.
I was actually referring to the user tutorials mentioned here and here and I have just realised they are completed by answering the katobot private messages.
Would definitely recommend these interactive tutorials to anyone who's not familiar to forums

Hi @Silvia_Mauri @charlotte1,

Hope you are doing well!
I am trying now to complete the advanced user tutorial but it had stopped after this step (display help)!
I also tried to use it as a reply, but it keeps repeating!


What is the next step in this advanced tutorial, or what should I do to complete this tutorial?

Any help/advice will be appreciated!

Best regards. Lilav.
Hmm I'm not too sure what you're referring to

Could you give me some more details?
Hi @charlotte1,
Well, I am referring to the user tutorials to earn Badge / Licensed
also, they are mentioned in this helpful reply above
And we can also complete them by answering the katobot private messages.
So how should I deal with my problem?
Thanks in advance.
Best regards. Lilav.
Ahh I see! We actually don't have control over these functions because the forum is based on an external software called Discourse.
If there's something that isn't working, we can reach out to them to resolve it
Could you provide us with more details about the issue you're facing? You can send us screenshots to translators@translatorswithoutborders.org if that helps

Thanks Lilav!
Many thanks to you! @charlotte1

I will do as you said.
Best regards. Lilav.
Hello everyone here
Hope you are doing well and safe
Would like to know
Is there any different between kato platform and kato community?
Thanks
Hi @musevenifreddy001,

As far as I know, the kato platform was where we used to translate and revised the projects, and for now, we use Memsource instead of kato platform.
And kato community is this community where we share our questions and concerns.
That's all I know ,or our kind @Silvia_Mauri

or @Aya.Alrifai

may correct what I mentioned above if I am wrong.
Have a great day!

Best regards. Lilav.
Hi @musevenifreddy001

Thank you @Lilav_Alarashi for the nice explanation you provided

and yes, you were close to right answer

Let me also add the following:
The TWB Platform is the general environment, where translators have profiles, find the tasks available and claim them
The TWB Community is the forum here, where our volunteers meet, interact with other translators and ask questions
Memsource is our new online translation tool, there is exactly where the translation and revision work is done. Here is an image to recognize it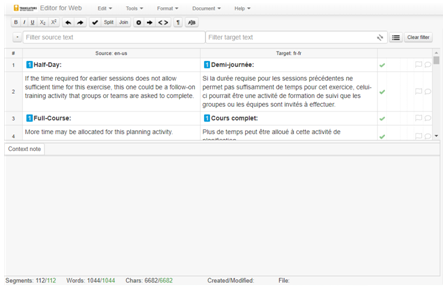 Memsource is in the place of the old Kató TM tool which we don't use anymore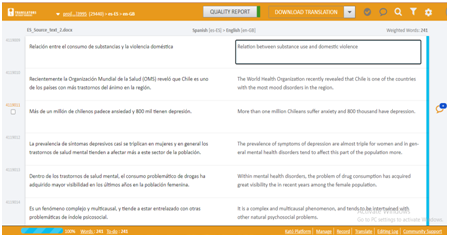 Hope that I could make it clear for you
Feel free to reach out if you have any questions