Hi, can anyone show me how to add terms please?
Hi @bryaribrahim20



You should mark the term you want to add (from the source or the target language) and then go here: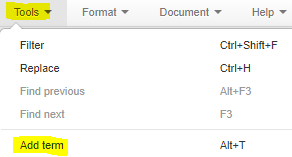 A window in the below part of the editor will appear and you can add there the wished term by adding the source or the target translation or adapting it at your disposal.
Have a nice day!



@Ludovica92 thanks a lot, I have tried that but this shows up


Oh I see, then the main reason is that the TB button (the one next to the green "TM" button on the top right side of the web editor) is not activated. If it isn't green (green=activated) you cannot add any new terms to the TermBase.
The only thing which is now active is the Translation Memory.



Hi, I have logged into Memsource to work on a translation. It is saying no machine translation connected. Is that correct or am I not using the technology properly?
Thanks
Hi @Rachel_Green! I hope you are well, I also don't have the MT connected when I work on my tasks, I think it is ok and nothing to worry about! I think you are using the technology correctly, I hope I am right and can help you with that

Best wishes!
Thank you for replying. Memsource is a CAT tool, however, so I am still thinking it should work?!
Hi Rachel! I think that it can be activated or deactivated, I think that perhaps the project managers can activate or deactivate them before we start a task, I hope I am right and hope it can be helpful for you! Best wishes

Hi @Rachel_Green and @elissa.cosby
I've moved your posts to this thread here where translators have already asked questions about finding machine translations.
If you can't see any resources for the TM, TB and MT then unfortunately it means we haven't got any for that specific project.
We are working on increasing the number of resources available to assist translations and this will also increase as more translations are completed using Memsource!
You can always reach out to the project manager by posting on the project thread as they may have more information for you

Thanks for reaching out on this

Hi @charlotte1, Thank you very much for your message, that is great and very helpful

I thought that that may be the case, for me it isn´t any problem at all, i think it is perhaps better that way! Thank you very much again for kind explanation Charlotte, Best wishes

Hi,
I wonder how can I download the translation memory from Memsource after finishing my translation or revising my task? and how I'll reach the TM page from Memsource?
Hi @millanberry
I don't think you can download the translation memory from Memsource! I'm pinning @Manuel in case this isn't correct

However, you are able to download your translation or revision by going to the "document" drop-down menu in Memsource and choosing to download the file!
I hope this helps, Manal. Don't hesitate to reach out if you have any other questions

HI @millanberry!
As @charlotte1 said, it is not possible to download the translation memory from Memsource, as resources like TMs or TBs are solely controlled by the Project Officer in this system. You can, however, download the MXLIFF or bilingual DOCX file from the Document menu, and convert these into TMX files, if you wanted to have those resources available offline.
Also, when downloading materials from projects in TWB please do remember the content of the TWB Code of Conduct. If you have any questions, please do not hesitate to ask!

Have a nice week,
Manuel.
Hello, can anyone help me what does MEAL stand for here please?


Thanks for the question! In an NGO context, MEAL usually stands for 'Monitoring, Evaluation, Accountability and Learning'

I can see that you've completed the task you were working on which had this segment! But the best way to ask questions about a specific project is to go to the project thread in the TWB Community (you can find the link for this on the project page)

This way, you can pin the project manager and other translators working on the same project can offer their ideas or advice too

Thanks for your support on this project, Bryar

@charlotte1 okay thank you

Hello, I received some texts to translated in Memosource but I don't know use this cat tool and I don't know how to transfer the text to this cat tool and submit to the Translator without borders. It appears only the text in my profile without the Memosource. Can I use another cat tool to the translation and send the translation by email. Thanks.
If you see a task that you'd like to work on, then you must first claim it! You can do this by following the steps in this tutorial: How to find and claim tasks

Once you've claimed a task, you'll be able to access the link to work on the task in Memsource!
We also have a 30-minute training webinar on How to use Memsource which is very useful when getting started

I'd also encourage you to check out our Translator's Toolkit, which has lots of great resources to help you out