Hi @ambra, thanks for your reply. I did read the thread you suggested, but there is nothing there that talks about enhancement/error as an issue type

Is there anyone I could ask this about?
Hi Sofia! It's a pleasure to meet you

Could you please give me more details about this issue? Maybe, if you could share a screenshot of what you see, we can better advice you on it.
Cheers,
Manuel.
Hi Manuel! Nice to e-meet you, too

Sure, here's a screenshot !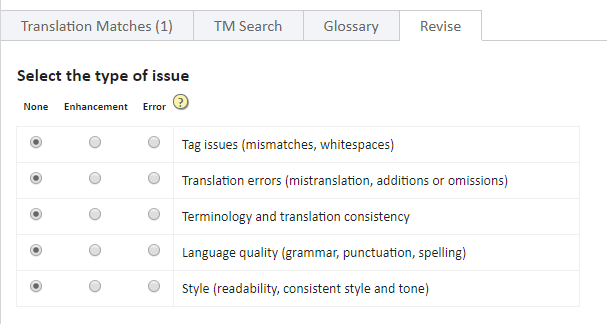 This is to the left of the Revision (track changes) box. I'm not sure when to select Enhancement and when to select Error, and even if it's mandatory to select anything once I've edited a translation segment.
You can see there is a ? button next to 'Error', but when clicking there, the explanation/text is shown under the 'Select the type of issue' title, so it's covered and I can't read it.
Hope it makes sense.
Hi Sofia!
Yes, this is fantastic, thanks

. We are currently not using this system for quality reporting and tracking because it involves leaving individual feedback for each translation unit. Unless there's a specific reason to do this (in-depth check of a translation, for example), we ask revisers to use the review form at the end of the full task to leave an overall quality score. For now, you can ignore this revision box in Kató TM.
You can read more about that here: Sharing feedback after revision tasks
Let me know if you have any questions!
Manuel.
Thanks Manuel! All good then, I'll ignore it then.
Cheers,
S.
Hi @Manuel, me again.
Just wondering if you or @Paulina (the project officer) can help me.
I'm revising this translation which was divided in three chunks. I've revised and submitted the first chunk, but I went back to it to edit it again, for consistency with the other chunks and to further fix things. How can I submit it again? And how can I send a private message to the supervisor?
Sorry if these are basic questions - this is my first task, so I'm wrapping my head around the platform.
Thanks!
Sofia
Thanks for your reply and the link @Paulina - I did some edits last night. I will let you know once I've finished all three chunks, just in case I need to go back and edit again something to keep consistency.
I was looking to contact you privately as the project officer - I meant to say 'officer', not 'supervisor'. How can I message you privately?
Thank you! I have emailed you

Thank you for your response, Joanna. I took a look at the video and FAQs. However, I didn't see the CAT tool windows in my task page- it just had a Word file to revise and the original source document to reference, and I was sent an upload link in the initial project pickup acknowledgment email. It seemed like the only way to complete the task was to upload a whole file, so I downloaded the translated Word file, made revisions and uploaded the revised Word file via the said upload link. Was this wrong?
I tried to go back in to see if I missed something and if I could find the way to use the CAT tool instead, but since it's already a "completed" status I wasn't to access the project anymore. Sorry if this was not the way- please confirm?
@yokola Thank you for your kind message. For technical reasons, there was no Kato TM link associated with your task so you did everything right. I think in such cases, it is better to make revisions directly unless tracked changes are specifically requested. Thanks again for your help!
Hello everyone,
Started my first revising work this morning and I am trying (but failing to do so) to add my corrections/suggestions directly in the "Revision (track changes)" window instead of adding comments on the right hand side. Any tips? suggestions?
Would be very much appreciated

Many thanks
Charlotte
got it sorted!!


@Papattesdepied

Hi apattesdepied, Well done!

What did you do (for our future expected task)?
Thanks in advance!
Hi @Papattesdepied, congratulations on claiming your first revising task


Do not hesitate to reach out again if you have any questions, we are happy to help


Happy revising!

Hello there,
I am doing a revision and my changes are just replacing the original text without showing that I made a change. Is this normal? Also is there anything else I need to do for the revision, apart from having to copy my revised version? Thanks in advance for your help! Greatly appreciated.