Hi Maria, yes, you are now a Kató Verified Translator for English to Spanish. Congratulations!

Thank you, Carla!

Hi


Yes I've received the e-mail notification
I have now access to access to the TWB WS
I can also work on English > French combination.
It's not selected in my profile.
Although I've performed the all the three tests available in proz test center.
Can you please help me ?
Thank you very much !
Hi Farid!
Thank you for your message. My colleague @Ambraluna will take a look at your profile on WS as soon as she can

Okay @AnaC, got it…
Thank you for following up

Hello,
I received the invitation today, but I can't have access to the workspace. I want to make sure if there is any technical error or the problem in my connection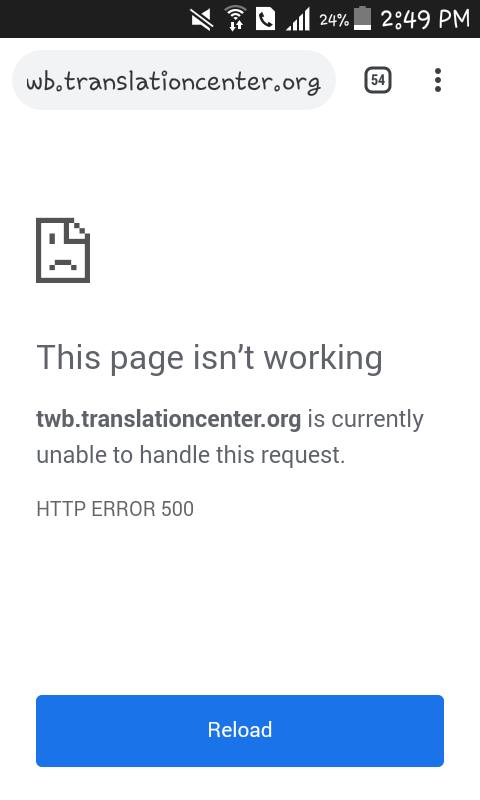 Hi @Sara6, thank you for your message. Could you please try to access Workspace from a computer to see if the issue persist? Thanks

I tried, still the same problem.@AnaC
Hi @Sara6, sorry for keeping you waiting but I was trying to understand what is the issue. We had a technical problem when we approved you test that should be fixed now. Could you please try to access Workspace now? If you the issue persists could you share another email address with us, so we can create a new account for you? Do so by emailing us at translators@translatorswithoutborders.org
Hello @Anac, thank you for your efforts, unfortunately, the error still exists. I also tried to access the site by Google search but it has the same problem. I am going to send you another email address.


Hi @Sara6, thank you so much! You should receive a new invitation next week.
@Ambraluna, FYI
@ambra I was in the sample tests page of Proz but unfortunately, I am unable to find the English-Italian combination to translate a text. Could you please let me know if something in Italian (target text) is available in order to proceed with the translation test? It seems there is nothing in Italian


Thank you
Hi Sara, yes of course you can take a translation test for English to Italian. You just need to select Italian from the drop down menu for the title you want to translate, as you see in the screenshot:

Spanish is the default language, but if you click on the drop down menu you will be able to see many more

Hi Ambra!
I need help. I've received an e-mail from Kato platform with tasks a few days ago. I've made some. But I can't understand, whether I'm certified for translators without borders, because I haven't receive any e-mail with invitation

Hello Anna, thank you for your message and for delivering your first tasks with TWB!
For what I see, you are not a Verified Translator at the moment. You can learn how to become verified and get invited to our other translation platform here. We are always in high need of Russian translators, so any support from you will be greatly appreciated.
I've done it 3 weeks ago. And I couldn't receive tasks 3 weeks ago. I assumed when I received the emails with tasks, that I am verified.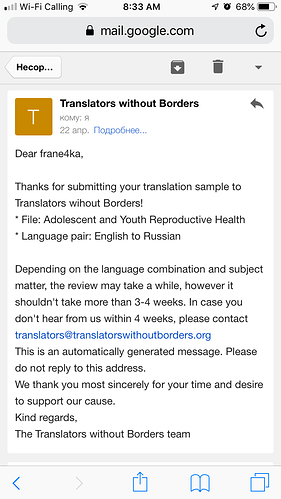 Hello,
I'm a verified translator, but I haven't received an invitation to join the TWB Workspace.
Hi Sondos, we are in the process of migrating from TWB Workspace to Kato. All the projects are now managed here and you don't need an account on TWB Workspace

Soon we will be updating the posts and instructions on Kato Community to reflect the change.
Hi everyone!


For those of you who were wondering about the TWB Workspace and Kató Platform:


All our projects are now posted on Kató Platform, our main translation environment


You can create your Kató Platform account here. It will take only a couple of minutes

When you register, don't forget to update your profile by adding your native language and language combinations and sign up to email notifications

We recently merged all the word count information we have in the two platforms, and now the total word count for the work done on both platforms is shown on Kató Platform

The TWB Workspace is used only as a repository for past information only. All of your words produced, including those translated in the Workspace, are visible on your Translator badge in Kató Platform. You can learn more about your Translator badge in this thread in Kató Community.