All clear!
Thanks a million Andreia, I really appreciate it.
Modhi
You are welcome, Modhi

I'm happy I could help you.
Have a great Sunday!
All the best,
Andreia
Hi,
I just completed translating but the progress bar in Kato TM is 99.95% although I completed all of the translation. I saw a post about the other segment of the same task that was posted 4 days ago but there was nobody replying. Please Help!
Thanks!
Good morning, Michael!

It must be a bug. I'm experiencing the same problem in one of my revisions. In this case, you must contact the Project Officer responsible for your project, (either directly, if you know who they are, or by leaving a message in the thread associated with your project) so they can submit your task for you. But please note that, being Sunday, probably both you and @Wandong will only get an answer regarding this tomorrow.
I'm sorry I couldn't be of more help!
Have a great Sunday

All the best,
Andreia
Good morning andfraz and thank you for the reply! Do you know how I should find my Project Officer?
You are welcome, Michael

Regarding your question - from what I understand, usually Project Officers are responsible for all projects from the same Organization. (But please bear in mind that I'm not 100% sure this is the case - maybe @ambra can either confirm or rectify this information later. Thank you in advance, Ambra

). So, if you noticed before that a Project Officer was responsible for projects from the Organization for which your project is intended, it's very likely that they are the person you must contact.
The easiest way to reach out to your Project Officer is by leaving a message in the thread associated with your project.
I hope this helps - and please let me know if you have more questions. I'd be happy to help

Have a great day, Michael!

All the best,
Andreia
Thank you so much for the reply and explanation Andreia! I have already replied in the thread associated with my project, so I guess I'll just have to wait until someone replies. I just have one more question: This project is due in about 9 hours and if by then no one can solve this issue, will I be marked not finishing the task and will there be some kind of punishment? Or will the deadline be extended?
Have a great day Andreia!
Best,
Michael
Hi again, Michael

From what I know, deadlines are directly related with Organization needs. For instance, a Organization might need a translation until a certain day, but not after that. That's why it is so important to meet the deadlines. Having said that, in most cases Organization needs are more flexible, so usually it is possible to get a deadline extension. Also, there are even cases where volunteers kindly undertake projects that were left unclaimed beyond the deadline (and get a deadline extension for that).
I am not aware of any penalty for not delivering a task in time. (I've looked for information regarding this, but I haven't found any - maybe @ambra, @_carolina or @JoannaW can clarify this for us? Thank you very much to three of you

).
I am also a volunteer, and I've always been lucky enough to able to deliver my completed tasks in time, so I have no reference point on this subject. I think I've read in another topic that a user got an email for not meeting the deadline; other than that, I have no idea what happens.
But I think that is not the point. Rather, I believe that it has to do with us feeling responsible for the work we claim, and being as diligent as possible about it - for the good of the people the NGOs are trying to help, and of the purposes the NGOs work towards.
In this case, it's clear that you did everything you could so the project would be delivered in time. So I think the Project Officer will kindly extend the project deadline (so it will not appear in your completed tasks as delivered beyond the deadline), and then will submit it for you.
Please let me know if there is anything else I can help you with, Michael

Have a great day, Michael!

All the best,
Andreia
Hello @andfraz and thanks a lot, as always, for helping our @Michael_Wang.
You are right, there are no penalties for submitting a translation late, especially if you have already sent a message to flag the problem. As Andreia said, the best thing you can do is posting a message in the thread for the project you are working on (video tutorial ) - in this way, the PM will get notified and can help you. And of course, my colleagues from the Community team and I will see it too and help you as soon as possible. I will now see if I can find the project you are talking about, and fix the issue for you

Thanks for the reply! I can see an added "Mark this chunk as complete" tab available now.
I think I submitted the chunk that I have completed but I am not sure. Is there a way to see if the work was submitted successfully?
Hi @Kate23


I think you're talking about this project, is it correct? I'm afraid you haven't submitted the task as in your Claimed tasks section is still classified as 'In progress'.
Hello, I am new and recently received a task. I am not sure if this the task for the test to get certified, but I noticed that it is not 100% and it does not have translated sections. How do I start? Thanks for the help!
Hello @rsec,

Welcome to the community.

Since you already can see the progress bar (which does not indicate 100% for the moment), I think you are on the right page. However, for instance, all you have to do is going to your "Claimed Tasks" tab, making sure that the "Task Status" is "In Progress" and choosing "Translate using Kató TM" which should open another page for the file to translate or revise.
The progress bar will reach 100% in bleu only when all segments are translated, or in green only when all segments are revised.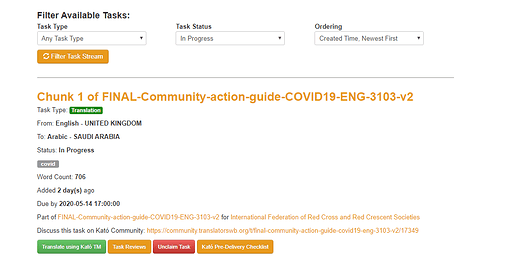 In case you are working on a revising task, and you can't see the translation in kató TM, this means that the translator has not finished working yet; you will receive an email notification once the translation is complete.
If you find any other issues, here are a few links that might help:
1- Video tutorial on how to find the right thread to post your questions.
2- Video tutorial , FAQs and Do's and Don'ts on how to use the Kató TM translation interface.
I would suggest that you take a look at this welcome pack to learn more about the platform.
Hope this helps.


Bests.

Hi @rsec


I hope @SalwaAlrifai 's guidance was helpful.
I can see that the task you submitted is the translation test for English into Spanish. Well done

We'll get back to you in 3/4 weeks with the results. Please let me know if there's anything I can help out with.
I completed my fist one too

, waiting for my next task.

Congratulations and thank you, Ivonne!